In a climate where the economic outlook seems bleak and hardship bites deep beyond the surface, when the fate of the small and medium-sized-enterprise is uncertain, local governments play a pivotal role in creating a sustainable business environment for local enterprises.  
According to the World Bank, SMEs account for the majority of businesses worldwide and are important contributors to job creation and global economic development. They represent about 90% of businesses and more than 50% of employment worldwide. Formal SMEs contribute up to 40% of national income (GDP) in emerging economies.  
Given the important role that local governments play in creating and distributing prosperity, small business owners should be aware of the potential effects of elections on their companies. Due to their close ties to the communities they serve, local governments are in a unique position to promote small businesses. Small firms must contend with several challenges in the operational environment due to the rules, laws, and regulations issued by local governments, which have a considerable impact on how these small businesses conduct their operations. 
Small businesses can be encouraged to participate in local hubs and platforms for engagement where representatives of local businesses and local government officials can speak with and actively listen to business owners to identify challenges and create shared solutions. To solve local business difficulties, these centers will enhance communication, public-private interaction, and action plans. 
In service of these goals, a town hall meeting was held at Onikan, Lagos Island, Lagos, Nigeria on February 8, 2023. The theme of the dialogue was "Understanding the Role of Local Government in Promoting and Enhancing an Enabling Environment for Small and Medium-sized Enterprises." It brought together key stakeholders from various sectors of the economy.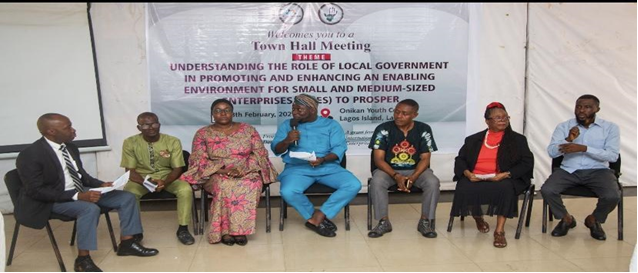 It was confirmed that the dialogue increased participants' understanding of the roles of local governments, the laws, and policies for the prosperity of SMEs in the local government, the level of awareness of how to better engage with the local government for voices to be heard, and how democracy can offer more inclusive and sustainable solutions. In terms of participation in the elections and obtaining permanent voters' cards (PVCs) for the prosperity of their businesses, knowledge was also gained. 100% of participants believed the town hall meeting was a great avenue for bringing SMEs and local government officials together to engage in their well-being and prosperity, saying the event was beneficial in discussing: 
"Serving as an intermediate between the state and federal government thereby enabling the voice of the communities to be heard." 

"To envision a law-abiding environment, collaborate and interact more with the community and provide an enabling environment for business to thrive and provide loans and grants."  

"Resident and business owners must pay tax and levies in order to be law-abiding residents."

"To provide grant/loan facilities to enhance the business of SMEs. Facilitate consistent power supply or solar energy at a subsidized rate. Streaming taxes, regular training empowerment, and adequate security with the inclusion of people with disability." 
84.85% of participants at the town hall meeting became knowledgeable and aware of the laws and policies in place on how to better engage with the local government. 78.79% also became aware of how to better engage with the local government for voices to be heard and how democracy can offer more inclusive and sustainable solutions.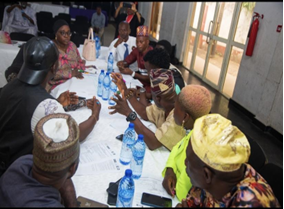 Key solutions from the discussion included:  
Establishing Local Government microfinance bank with low interest rates. 
Providing grants/loans for SMEs. 
Reducing taxes and levies. 
Reducing business registration fees by the Government. 
Individuals with disabilities should be considered during policy formation and empowered with equipment and grants. 
Youth empowerment.  
Our effort to make citizens and businesses understand what true democracy is does not end here. Building on the dialogue's conclusions will take committed and continuous effort over the medium to long term. This Town Hall is a necessary first step to engagement, but the real value of this Town Hall and other dialogues will be determined by how well recommendations are accepted and advanced to implementation.  
Lagos Island Connect aims to build on this engagement by following up with an intervention on the recommendations which will bring about action and reforms because "action speaks louder than words." This will further demonstrate to the youth who make up a majority of small business owners that dialogue works in a democratic dispensation.